WIFIPLUG HOME 2.0
Published on December 2, 2019
Why are we building ANOTHER smart plug I hear you cry?
Demand from our B2B company myma.io
Demand from our B2C customers
Apple and Marvell, our component manufacturers stopped making the chips we use – so we didn't exactly have much choice!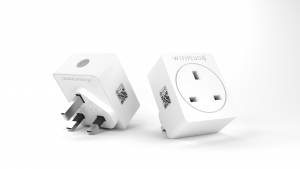 The news plug is visually pretty much the same as WIFIPLUG HOME 1.0 – the only difference is that the ON/OFF button is on the top of the plug not the front – this is from customer feed back over the last 7 years. The actual reason we did it now was down to the energy meter inside. Currently our plug can read a maximum of 1 event per second, which is plenty for general use but our B2B customers wanted more granularity and frequency to dial into the exact pattern of energy, so now we are introducing NRG1 – our fully patented smart meter that is capable of reading 50, yes FIFTY events per second, meaning nothing on the market will even come close and with this level of data points we can now more accurately detect faults and issues inside a machine before they happen.