Q3 We are SHIPPING!
Published on June 26, 2020
Hi folks, Leon Doyle here (CEO of WIFIPLUG),
Well what a turbulent few months that was – I'm sure none of you want to hear about the tough times we have been through, so let me get straight to it, the good news!
Our Apple MFi Authorized Test Lab opens its testing facilities again in the UK on June 29th (after closing its doors on March 26th) and our plugs will resume testing. We have built a great relationship with them over the last 5 years and will hopefully be able to avoid the standard 6-8 weeks testing time. I am hopeful they test and sign us off in a matter of weeks – however I don't want to count my chickens yet and I should add, this is precisely why we never give an exact shipping date. It's the unknown unknowns that we have no control over – just like lockdown!
After this, we can finally get the plugs out of mass production and into your hands. I've been lucky enough to have been using a few of them in my home during lockdown and I can tell you, these are the best ones yet, I'm really proud of our team and our UK manufacturing partner TT Electronics for working through the pandemic and trying our best to keep everything on track.
Over to the plug – The on/off relay sounds a lot quieter and smoother, the response times are a lot quicker (thanks to revised circuitry) and now the plugs are running the latest SDK released by Apple this year, With it's patented smart meter and higher max rating, I can now put them on my tumble drier and washing machine to visualise the cost of each cycle. Our latest V.2 plug will be used for both B2C & enterprise customers like; Proctor & Gamble, Electrolux and BSH through our sister company, myma.io (where we diagnose faults before they happen!).
Here is a picture of the the new and old side by side. It's crazy to think how these tiny changes have cost over £100,000!! In fact, It's best I don't think about it too much or I won't be able to sleep!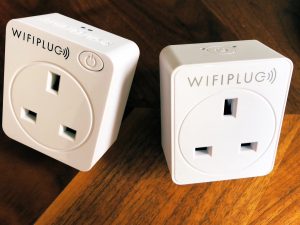 I would like to thank you again, to all customers new and old, for sticking by us (a British startup, giving it everything we have got).
Thanks for supporting our British startup, we are now 7 years old and are looking forward to the next 7 with you by our side, I should add, being completely transparent and vulnerable here, my biggest fear is that this isn't good news for some and that a potential sudden increase in refunds would spell a very unhappy start for WIFIPLUG HOME 2.0!
Please do let us know (via a support ticket)  if your delivery address has changed as I know it has been a long wait.
Kind Regards
Leon Doyle