Q3 Update – Home 2.0
Published on September 24, 2020
Hi folks.
Leon, the CEO of WIFIPLUG here.
I thought I'd be the first to let you know that we have finally heard back from our certification testers at Apple and the Wi-Fi Alliance. We have just been issued with Wi-Fi certification for WIFIPLUG HOME 2.0! You can see here that it was only issued this week and thankfully, this means that we can finally start mass production.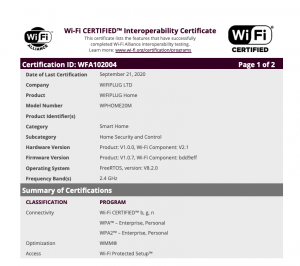 There are no more software, hardware or generally technical hurdles to overcome.
Mass production is now in the extremely capable hands of our manufacturing partners, TT Electronics.
Of course, we have gotten to the mass production stage later than we had originally hoped and anticipated however, our manufacturing partners, TT Electronics, have assured us that WIFIPLUG HOME 2.0 will begin shipping no later than the first week in December – just in time to say "Hey Siri, turn the Christmas Lights On".
I understand that this is later than any of us had hoped for, and we thank you greatly for your continued patience and amazing support, the good news is, the light is now very much at the end of the tunnel.
I'd also like to give a shoutout to Owen on Apple's MFi team who, despite the odds, really has gone above and beyond to see to it that our product launches without any further delays.
It's been a difficult year for us all and together we moved forward.
Best Wishes
Leon