Q1/21 – Shipping update
Published on January 11, 2021
Happy New Year!
As promised, we are back at it, full throttle. Over the xmas period we announced there was an issue with production and I'd like to share that issue with you now – the earth pin that resides inside the plug, to receive the appliance going into it, was ordered incorrectly. To pass British testing, the earth pin needs to have a double kink to contact the earth before the neutral and live make contact and to hold the receiving plug with enough force for it to not just fall out and offer enough resistance that it can be removed safely.
(Diagram below for avid fans!)
The 10,000 earth pins our production line received only had one kink on them at the bottom. Such a small detail but the difference between the plug being certified to British Standards or it being certified to someone else's standards. This meant we had to stop mass production.
It's probably worth pointing out at this stage there is only ONE other smart plug in the UK market with the full British Standard testing around it and that's the Phillips Hue smart plug. ALL the others have much less stringent tests on them and some, sadly, have none at all.
TT Electronics (our manufacturing partner) spotted the issue thankfully and have placed the order for 10,000 double crimped copper earth pins – this is now the only part missing from our 72 piece – bill of material list.
It is hoped this part arrives with the factory in the next 4 weeks, ideally before Chinese New Year (Feb 15th) as the part is from China. Then mass production can take place with a lead time of 4 weeks. Each plug takes 1 minute to calibrate the energy meter and about 1 minute to assemble so we hope to get the 10,000 units off the line by the end of Feb and into all of your hands by the end of March.
Another painful wait but at this point we really cannot see another hold up. so again, for the third time, thanks for waiting and supporting a British designed and British startup, it means everything to us.
Regards
Leon Doyle – CEO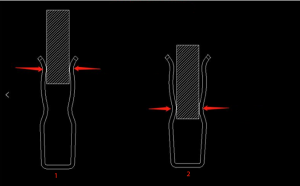 The upper kink (1.) ensures the earth makes contact before the Live/neutral. The lower kink (2.) has a stronger contact force ensuring a robust connection over the product lifetime.